COP27
Below, we have created a collection of Solactive's publications relating to the topics covered at the COP27 summit in Sharm-el-Sheik clustered according to the summit's agenda.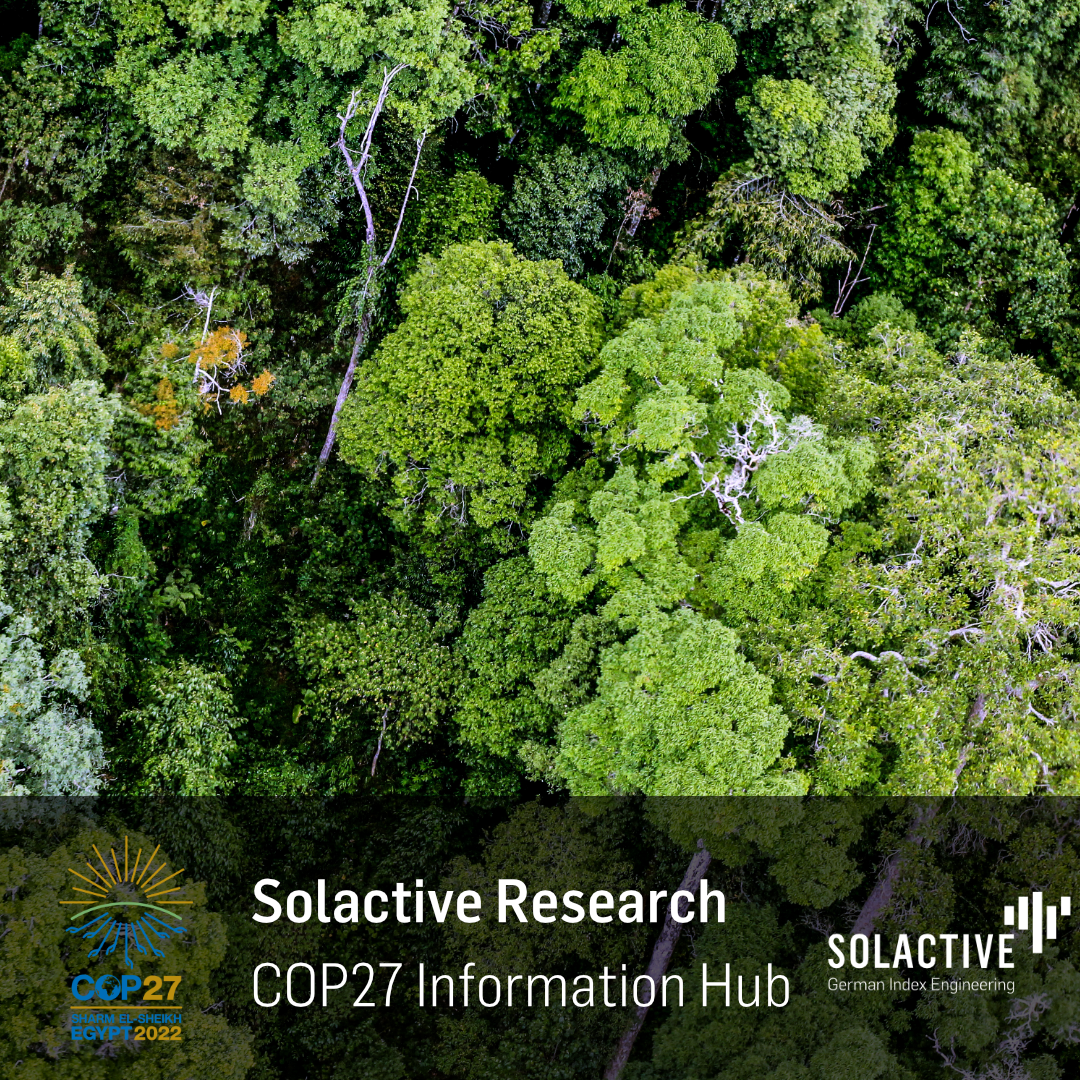 09 November - Finance Day
MIDNIGHT IN PARIS: AN OVERVIEW OF EU CLIMATE BENCHMARKS
In light of COP 27, we provide an overview of the global climate emergency and on what stage are we when it comes to achieving the goals of the Paris Agreement. Further, we elaborate on how EU Paris-Aligned, and Climate Transition Benchmarks can help equity and fixed income investors systematically generate impact without necessarily having to compromise on investment performance.
TIME FOR ACTION. SOLACTIVE'S EU CLIMATE INDICES
To mitigate the impacts of climate change and achieve the goals of the Paris Agreement to limit global warming to well below 2° Celsius the time for action is now.

The resulting Solactive Paris Aligned Developed Markets index shows a reduction in emissions exposure of 59.8% compared to the parent index and eliminates almost completely transition risks from potential emissions of fossil fuel reserves. It outperforms the conventional index by ca. 1% p.a. with similar risk characteristics.
11 November - Decarbonization Day
A GUIDE TO CARBON EMISSION IMPACT ON EQUITIES
As the global economy is accelerated to net-zero carbon emissions, carbon is widely considered a problem to solve. Carbon markets are becoming ever more relevant by the day – a trend that is not expected to subside in light of global decarbonization targets. Among the most mature systems intended to incentivize decarbonization is the EU ETS. In this paper, we analyze how the EU ETS and its ripple effects could affect companies composing the Solactive Europe 600 Index by leveraging data from our strategic partner SparkChange.
A STITCH IN TIME SAVES NINE - EU EMISSIONS ALLOWANCES AS A TRANSITORY TOOL FOR NET ZERO EQUITY PORTFOLIOS
Carbon markets have recently received increased attention owed to soaring prices on the one hand but also due to the potential environmental benefits investors can achieve by engaging in these markets.
In this whitepaper, we demonstrate how investors can make use of EUAs to offset financed emissions of equity portfolios providing a step-by-step implementation methodology, practical examples, analysis of such implementation for different portfolios, and a discussion of practical considerations.
LOVE CO2 IS IN THE AIR
It is no secret that human activity is warming up the planet through the previously unchecked release of greenhouse gases, of which man-made CO2 is the biggest contributor. Humanity has already started its journey towards # net-zero by 2050 – but – if we are to achieve the goal of limiting future temperature increases to "only" 1.5 degrees Celsius, we must do more than just reduce emissions: we need to actively remove carbon from the atmosphere.
12 November - Adaption & Agriculture Day
AGRI-TECH AND FOOD INNOVATION
Agri-Tech, nutrition solutions, and dietary supplements address two important challenges of today's world: ensuring nourishment for a growing population projected to reach 10 billion people by 2050 and providing healthy, climate friendly, and sustainable food solutions.
SUSTAINABLE FUELS
Currently, electrification is one of the key technologies to achieve carbon neutral mobility – with rising EV sales around the world, expanding charging infrastructure networks and increasingly stringent regulatory frameworks favoring EV adoption. However, widespread electrification is not likely to happen in the foreseeable future for the aviation and marine transport industries, since replacing current engines with electric ones is particularly challenging for airplanes and ships, for example. Thus, there is a need for alternative solutions to decarbonize these industries: hence the need for sustainable fuels.
GRID INFRASTRUCTURE & TECHNOLOGY
In order to achieve a net-zero emissions future, the global energy mix must become ever-more reliant on clean sources of energy. However, current electrical grid and transmission infrastructure is not yet in a stage ready to efficiently rely solely on alternative power generation. Under such conditions, a significant amount of capital must be invested as a pre-condition for the world to achieve a green energy mix.
16 November - Biodiversity Day
BIODIVERSITY AS AN INVESTMENT OPPORTUNITY
Help to protect the Earth's resources with biodiversity indices from Solactive and invest in companies that integrate the protection of biodiversity into their corporate social responsibility strategy!
17 November - Solutions Day

MINERVA BRIEFING GREENWASHING
Greenwashing is an issue of increasing concern for investors, with false or misleading claims about the environmental benefits of a product or service impeding their ability to accurately understand their own portfolios. This briefing by our partner Minerva Analytics gives asset owners the key details they need to understand and address greenwashing concerns.

MINERVA BRIEFING ON CLIMATE STEWARDSHIP
This briefing by our partner Minerva Analytics looks at the implications of the Paris-aligned sustainable stewardship and outlines some of the key choices that investors can apply to support the Race to Net Zero and how Minerva's research and voting guidelines can support investors through informed stewardship.
If you are interested in more research from Solactive, sign up to our monthly research newsletter!